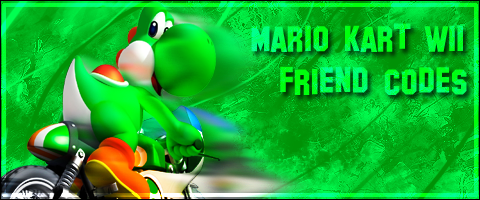 Hey guys! This is one of the few games that is permitted to have an open Friend Code topic; Mario Kart! For Mario Kart Wii and Mario Kart DS, easen races by adding your code here. Be aware that your friend code is for all to see, so please post here if you'd like your code to be private. In this case, please be considerate and contact those who like their code private in Private Message to exchange a code.
Also note that the Mii on your license is used in Mario Kart Wii, so if you would like to stay more private, use a mii that is not using your face or name, but that's up to you.
Friend Code List (Mario Kart Wii)
:
Chuey
: 0731-5185-9399
Turtwig_Fan
: 2277-7033-9108
Registeel_Rules
: 1203-9693-8482
LegacyStrike
: 1719-3672-9206
Storm39
: 0130-2220-0415
Pichubro4
: 5284-1808-1764
Baconator25
: 5241-2314-2802
Dragon6534
: 4854-6986-7247
SteelChar
: 1934-1060-4611
Giga_Metroid99
: 4597-7101-4115
Friend Code List (Mario Kart DS):
Giga_Metroid99
: 1460-9008-0200
Edit: I hope you don't mind if I edited this topic to include Mario Kart DS, Chuey. --Norman.